Research and Innovation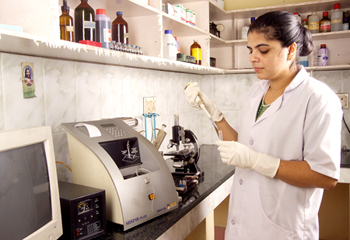 PPG has given continued thrust on its research and development initiatives. Not limiting itself to traditional ways of treatment, PPG, under the leadership of Dr. Pathrose, continued its efforts in developing Ayurvedic proprietary medicines. Ortho-Care, PPG's orthopaedic equipment manufacturing division springs from the same penchant. Techno Medical Division has designed and developed over 20 products exclusively for those suffering from orthopaedic disorders. PPG's trail-blazing achievements in R&D include Action Crepe, In-Shape Instant, In-Fresh herbal mouthwash and the like.
The hospital has a team of 5 years experienced Ayurvedic Physicians, Junior Doctors, House Surgeons, paramedics, medical technicians and masseurs. The hospital is the first Ayurvedic Hospital in India to get ISO 9001:2000 Certification. Efforts are on a fast pace to get NABH (National Accreditation Board for Hospitals and Health Care Providers) accreditation.
In a world which is facing the challenge of eroding efficacy of medicines, Pam Labs India Health Care Pvt. Ltd is a Herboceutical Division, PPG's proprietary as well as classical Ayurvedic medicine manufacturing facility, comes as godsend.
This most modern, state-of-the art facility adopts stringent quality upkeep measures to ensure high efficacy to the Ayurvedic medicines and other health care products. PPG's Techno Medical Division, Ortho-Care Products Pvt. Ltd., offers a growing array of equipments and appliances, which includes 'Action Crepe', which conforms to British Pharmacopeia standards.
To add efficiency in its marketing efforts the group established Herbix India Marketing Pvt. Ltd.is Marketing Division, which is engaged in the marketing of PPG's orthopaedic equipments, Ayurvedic medicines and FMCG products.
From a 4 bed hospital in 1955, the group has come a long way. Today PPG is a growing, modern entity which is touching the lives of many, by enhancing the quality of life. Something PPG is committed to.