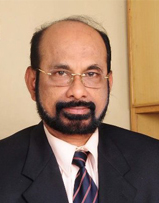 Chairman & Managing Director
Dr. Pathrose Parathuvayalil is an Ayurvedic Physician and health care entrepreneur hailing from Kerala, India. He is the Chairman and Managing Director of Dr. Pathrose Parathuvayalil Group (PPG) of Concerns which owns Parathuvayalil Hospital & Orthopaedic Centre, Pam Labs India Healthcare Pvt. Ltd, Ortho Care Products Pvt. Ltd, In-Shape Instant and Herbix India Marketing. Dr. Pathrose was born into Parathuvayalil family who were traditional Ayurvedic practitioners. Inspired by his own heritage, Dr. Pathrose joined Govt. Ayurveda College, Thiruvananthapuram and he secured First Rank in Kerala University for Bachelor of Ayurvedic Medicine in the year 1970. Later he did his post-graduation in Kayachiktsa and Marmachikitsa (General Medicine and Orthopaedics in Ayurvedic) from the same college. Dr. Pathrose owns the first Post Graduate Degree in Ayurvedic Medicine in Kerala.
After his post-graduation, Dr. Pathrose took charge of Parathuvayalil Ayurveda Hospital which was founded by his father Late Sri. P.V Paulose Vaidhyan in 1955 with 4 inpatient rooms at Keezhillam. Under Dr. Pathrose's leadership this hospital became the first ISO 9001:2000 certified Ayurvedic Hospital in India. Later he developed a separate entity for manufacturing Ayurvedic medicines under WHO GMP standards and Pam Labs India Healthcare Pvt. Ltd. Ortho Care Products Pvt. Ltd, are the another subsidiary of the group manufactures industry leading 'Action Crepe' bandages that conform to British Pharmacopeia standards of elasticity, porosity and weight per unit area. In- Shape Instant an Elastic Abdominal Binder, the latest offering from the group is synonymous to abdominal binders in Indian market today. Our Herbaceutical Division ,Pam lab India Health Care Pvt.Ltd., introduce In-Fresh Herbal Mouthwash which Contain 100% Ayurvedic ingredients and 0% alcohol.
Dr. Pathrose also chairs Herbix India Marketing our marketing division, the entity which distributes the products from the group globally.